Take action on cannabis justice this 4/20
The war on cannabis has been an expensive, racist, and misinformed miscarriage of justice. In particular, it's had horrific consequences for communities of color, especially young Black men, who've had their lives destroyed by selective enforcement.
Today, on 4/20, our movement is raising awareness not merely to end the cannabis prohibition, but to demand justice.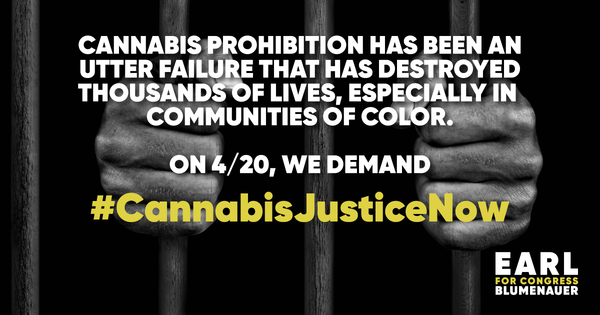 Head over to Facebook and share this graphic today!
I have led the charge with my Cannabis Caucus Co-Chair Rep. Barbara Lee (D-CA) to urge President Joe Biden to grant executive clemency for all non-violent cannabis offenders.
Already, dozens of lawmakers have joined our call to action. But it's going to take more than a few members of Congress to get this done—it's all about our village of grassroots activists, voices united for justice.
The war on cannabis has been an utter failure. As we work toward federal legalization, we can't leave behind those jailed for something that the majority of Americans support and is legal in huge portions of the country.
Join our call for #CannabisJusticeNow.
Earl
Posted on April 20, 2021
.