I'm proud to be a cyclist — a member of a diverse community of children, families, public health advocates, climate crisis fighters, and so many more. When we clip on our helmets and hit the road, we're united by a method of transportation that is healthier, safer, more efficient, and more sustainable than the cars politicians have traditionally centered our infrastructure projects on.
From my start in public service, I rode my bicycle to work when I served in the Oregon State Legislature, and worked with advocacy groups to launch the City of Portland's Bicycle Program when I served as City Commissioner for Transportation and Public Works. And when I came to D.C., I brought two bikes instead of a car with me to Congress, where I founded the Congressional Bike Caucus. Today, our caucus is nearly 100 strong, and bicycle commuting has risen 60 percent across the nation as more and more cities and towns have adopted our model in Oregon.
This past weekend brought some exciting new developments for those commuters — and recreational cyclists and pedestrians — in Portland. I was honored to see the installation of the Earl Blumenauer Bicycle and Pedestrian Bridge across I-84, a bridge that will serve as a valuable connection for bikers and walkers between the Lloyd District and Central Eastside.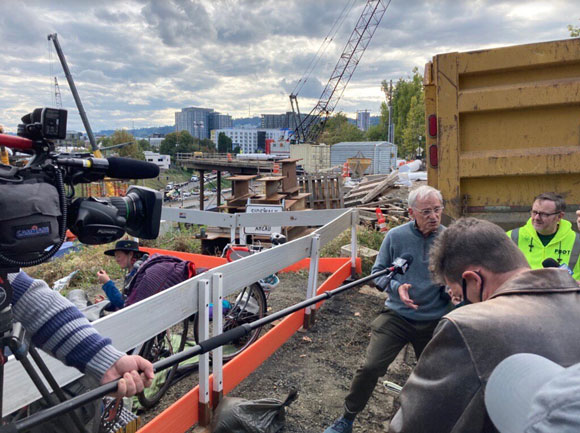 This connection provides a safe, economical, reliable, healthy way to travel that is part of a broader effort to save our planet.
This year in Congress, I've led on four critical priorities that can spur more investment in pedestrian infrastructure, mitigate the climate crisis, and keep commuters safe:
The Electric Bicycle Incentive Kickstart for the Environment, or E-BIKE Act (this one is BIG!) would create a tax credits toward the purchase of electric bicycles. E-bikes add a whole new array of commuting options and dramatically extend the capacity of people to embrace cycling, especially when dealing with difficult terrain. E-bike riders, who are likely to be former car commuters, are not polluting the air, competing for parking spaces, or congesting the roads.

The Vision Zero Act would procure federal funding to support local transportation safety initiatives. With Vision Zero, we can eliminate all transportation-related fatalities. We have already seen communities in Oregon's Third Congressional District and throughout our state make huge inroads in protecting our most vulnerable commuters, and it's long-past time the federal government puts its money where its mouth is and joins in these safety efforts.

The Bicycle Commuter Act provides riders access to pre-tax commuter benefits like those we provide for commuters via car and public transit, and expands the benefit to include bikesharers and E-bike riders. I've secured this credit for bicyclists before, but it was suspended by Republicans as part of their outrageous tax cuts under Donald Trump.

And the Bikeshare Transit Act makes local bikeshare programs eligible for federal transit and air quality funding. With over 50 million bikesharing trips annually, the federal government needs to catch up to demand and provide the funding and incentives to strengthen these critical tools in communities nationwide.
Change starts with us. So whether in our cities, our counties, our states or our nations, we must continue to commit to build pedestrian committees, press our local council persons, and ensure our children can get to school safely by bike.
From there, developing winning pedestrian infrastructure should be just like... riding a bike.
Courage.
Earl
Posted on October 14, 2021
.