I am writing this email to you from Glasgow, Scotland – where I am attending the U.N. Conference of Parties Summit (also known as COP26) to fight alongside my friends in Congress, like Alexandria Ocasio-Cortez, for bold climate action on the international stage.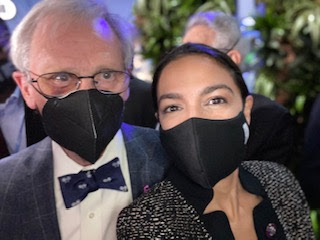 I strongly believe that our success here shouldn't be measured in voluntary vows and pledges to do better for our climate, because unkept promises are not going to get us out of this mess. It is still important to shine the spotlight on the growing consequences of climate change, and to educate and learn from leaders around the world about what's working and what isn't.
There are several issues that I am personally working on both in Congress and at this summit. I have authored the renewable energy tax credits that are in the Build Back Better Act that I'm hoping we will pass later this month. I've also been working on a proposal to stop the illegal deforestation of some of the world's leading rainforests – by denying any products using this lumber from entering the United States. And I'm discussing ways we can use our trade agreements to encourage climate action, particularly through what is called a Carbon Border Adjustment Mechanism, which would make countries that want to trade with the United States either reduce their carbon emissions or pay higher tariffs.
Of course there are many other things we need to do, including pushing for a Green New Deal, getting serious about the agricultural reforms we need to cut emissions, and creating a faster transition away from fossil fuels and toward more sustainable energy production.
When I return, I will share more with you about my reflections. But for now, I want you to know that I'm working to bring our Oregon values and ideas on the climate crisis to the global stage.
Courage,
Earl
Posted on November 9, 2021
.