The return of this year's Portland Pride festival was filled with celebration, unity and strength. After two years of being unable to gather due to COVID, it was uplifting to be back in-person marching in solidarity with my fellow Oregonians.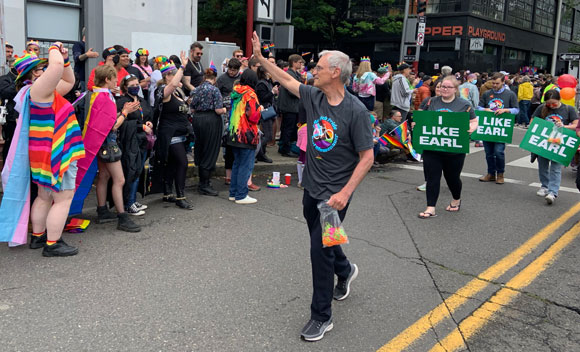 As we honor and celebrate Pride month, it is important to remember that so much is still on the line for LGBTQIA+ people. Though many battles have been won in the fight for equal rights, we are far from winning the war. We must not become complacent; we must continue to unite, engage, and defend Oregonians' basic rights and protect LGBTQIA+ people from discrimination.
State legislatures across America have introduced bills targeting transgender and non-binary people. They have outlawed or criminalized healthcare for trans youth, barred access to the use of proper facilities like restrooms, restricted trans students' ability to fully take part in school and sports, and made it more difficult to get identification documents with their name and gender. The assault on LGBTQIA+ rights continues and we must remain vigilant.
The Supreme Court stood on the right side of history in 2015 with its decision to extend marriage rights to same-sex couples in all 50 states. This was a critical milestone in helping secure freedoms to which all Americans are entitled, regardless of whom they love. Today, however, legal experts are sounding the alarm that the rationale used in the recently leaked Supreme Court opinion that would overturn Roe v. Wade may also threaten marriage equality.
In 2004, Ballot Measure 36, an amendment to the Oregon Constitution which defined marriage as a union between one man and one woman, was approved by a majority of voters and became law. Ten years later, Oregon Judge Michael McShane overturned the state's constitutional ban on same-sex marriage, but the amendment's language remains in our state's Constitution. We cannot take Judge McShane's decision for granted — our ability to unite and defend against bigotry, discrimination, and hatred is more critical than ever.
I am proud of my 100% rating from the Human Rights Campaign. But there is more to do. The Senate should pass the Equality Act now. It would extend anti-discrimination protections to LGBTQIA+ Americans by amending existing civil rights law to protect sexual orientation and gender identity. No one should lose their housing, job, health care – or be denied the opportunity to serve our country – for expressing who they are.
Peace, justice, and freedom from discrimination are ideals and values, but they are not guarantees. There has never been a more crucial time to come together and stand for what we believe in. I am all in. I hope you'll join me as you vote this November.
Courage,
Earl