An economy that works for all, not just the few
Pandemic. Recovery. War in Ukraine. Labor shortages. Inflation. There's been no shortage of challenges to the U.S. economy over the last several years.
The good news: Democrats in Congress, and the Biden Administration, rolled up our sleeves to deliver immediate economic relief to all Americans. We also passed several amazing pieces of legislation into law that will invest in and strengthen our communities for decades to come.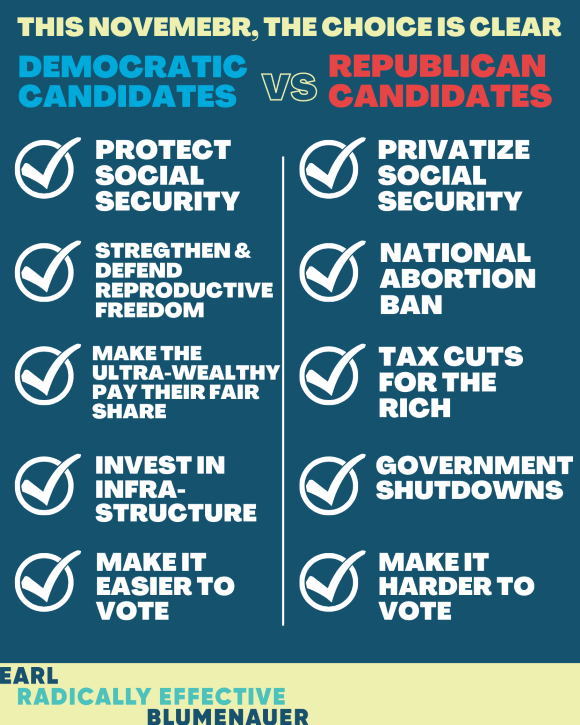 The American Rescue Plan helped to support Americans during the pandemic. It provided direct payments to working families, expanded the childcare tax credit, and injected billions of dollars into communities for safe school reopening, emergency rental assistance, and help for homeowners struggling with mortgage payments. It also enacted my Restaurant Relief Fund which kept more than one hundred thousand small businesses open and saved vital jobs for working families.

The Bipartisan Infrastructure Law is generating historic investment to modernize America's roads, bridges, transit, rail, ports, airports, broadband, and water infrastructure. This bill will create better jobs for Americans for decades to come.

The Inflation Reduction Act which will lower the costs of healthcare by empowering Medicare to negotiate drug prices and cap insulin at $35 a month. It also contains the most consequential investment in carbon reduction activities in our nation's history. Several provisions I authored are in the bill, including:

the production and investment tax credit to incentivize wind and solar projects;
direct pay and renewable energy credit transferability provisions to make project financing more efficient;
incentives to make commercial buildings more energy efficient and sustainable;
clean transportation incentives, including an expanded electric vehicle credit for new and used vehicles; an expanded credit to charge e-bikes and e-scooters; credits to electrify commercial fleets;
legislation to reinstate the Superfund Tax which ensures that polluters are responsible for cleaning up after themselves.
I am proud of these accomplishments, and what's more, I want us to build on them. There is much more we can do, like helping communities become more climate and disaster resilient and boosting apprenticeships and technical job training programs. But only if Democrats keep control of Congress.
Should Republicans gain control, I guarantee you their agenda will be very different. Only 13 Republicans voted in favor of the infrastructure bill. It still makes me shake my head in disbelief that investing in our communities and job creation has become such a partisan, political issue.
It doesn't have to be this way, and with your help, it won't.
Initiatives that strengthen American families and build an economy that works for all do not have to be partisan. But make no mistake, that's going to be a lot easier if Democrats stay in charge.
Courage,
Earl
Posted on October 11, 2022
.