A vote for Betsy is a vote for Drazan
Dear Friends,
By now I hope you know that I detest the season of political emails, texts, and calls just as much as you. In particular when the intent is to provoke fear and anger as opposed to thought and reason.
I want to be candid with you that this email is in no way an attempt to fear-monger. But I do want to communicate that if the election were held today, it's highly likely that Oregon would elect an anti-choice Republican as governor.
Fortunately the election is not being held today. In fact, we have 18 days to make a difference. With your help, we can turn the tide of this very close and highly unusual contest.
I'm not going to continually implore you to send money. While it certainly helps, the most important thing we need to do between now and election day is to get out the vote.
We do this by using our most effective tool: the power of people. This is where Democrats do our best work: at the doorsteps and on the phones. We need everyone to do their part. Please consider taking a volunteer shift with the Democratic Party of Oregon between now and November 8.
Let's be clear about the race for governor. Tina Kotek is a proud Democrat who has the experience to lead Oregon forward. She knows the people and the process to make our executive branch functional once again. She also understands the challenges we face concerning homelessness and the housing crisis, the importance of public safety, and keeping Oregon's strongest in the country reproductive statutes in place. While Christine Drazan and Betsy Johnson have simply focused on attacking her, Tina Kotek has put actual proposals on the table.
She has the experience, leadership, and strength to get Oregon back on track and address our state's most pressing issues.
I know and like State Senator Betsy Johnson personally. But she is not the person to lead our state. And when it comes to the election there is no path for her to win the governor's seat.
A vote for Betsy Johnson is effectively a vote for Republican Christine Drazan.
Tina needs your help on the ground, and right now. Please join me in turning out every Democrat to support Tina Kotek in this critical election.
And we all know Nonaffiliated, Independents and Republicans who share many of our values. We should work hard to encourage everyone that values and cares about Oregon's future to vote, and to support Tina for governor.
Courage,
Earl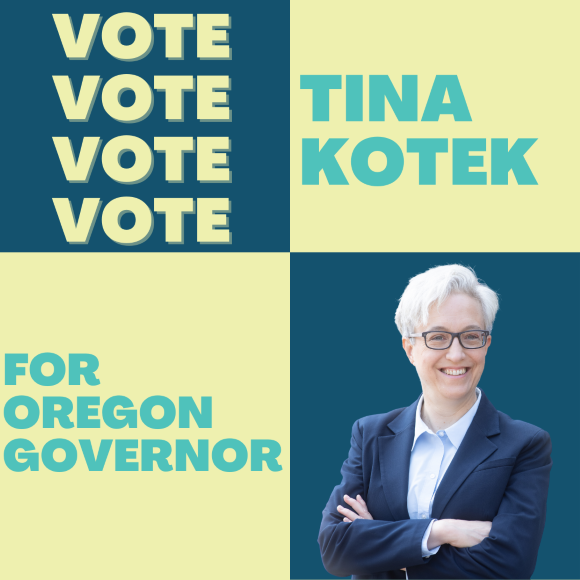 Posted on October 21, 2022
.